Lotec is a German sports car manufacturer. The company was founded in 1962 by Kurt Lotterschmid. By 1969, the firm began building race cars, and would turn their attention to modifications for Porsches in 1975. In 1983, they began to create aftermarket aerodynamic and performance parts for Mercedes-Benz cars.In 1990, Lotec was commissioned by an oil baron from the United Arab Emirates to build a sports car for him. The completed vehicle (known as the Lotec C1000) was completed in 1995, at a final price of around $3.4 million dollars (USD). The car is equipped with a 5.6L Mercedes-Benz V8. The engine was fitted with two turbochargers for a total output of 1000hp.In the year 2004, the company completed its first production vehicle, badged the Sirius. The
Sirius
is powered by the same 5987cc Mercedes-Benz V12 as the Pagani Zonda. Lotec claims that the car will produce 1000hp, or up to 1200hp when tuned differently.
The vehicle itself is composed primarily of reinforced carbon fiber, which lends to its relatively low curb weight.Lotec has also announced a re-designed version of the Sirius for 2009, that changes some of the body work but retains the same motor and transmission as the current model.At their upcoming Scottsdale Auction, Barrett-Jackson will auction the only Lotec C1000 Supercar. Below is the expert available from their catalogue:
"Originally conceived in 1994 with construction completed in 1995 by a United Arab Emirates Citizen who desired to own the fastest, individually owned car in the world! He contracted Mercedes which in turn also contacted Lotec for the body design. The letter C stands for the carbon fiber (race car), and the number 1000 stands for 1000 horsepower. Power plant powered by Mercedes and body design by Lotec. Power plant consists of 5.6 liter V-8 Mercedes engine, with Garrett twin turbo chargers. Runs on a mixture of unleaded gas, and aviation fuel. Hewkand 5 speed racing transmission and 4 ram AP IMSA racing brakes. Body consists of carbon fiber and Aerospace material frame. Design and engineering cost over $1,000,000 and actual constuction cost was over 1,200,000 total production cost was over $2,200,000. 0-60mph in 3.2 seconds, 0-125 mph in 8.08 seconds, top speed 268 mph."
lotec sirius 1200 hp 0-300 in 17 sek by car-movies.de,2005


Silver Lotec Sirius Concept
Silver Lotec Sirius Hatchback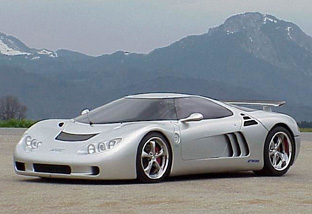 Silver Lotec Sirius Front View
Silver Lotec Sirius Front Side View
Silver Lotec Sirius on The road