* Powered by the award-winning Tau V8 : Ward's AutoWorld magazine said, "The Tau continues to dazzle with its combination of silky, smooth power delivery, aggressive tip-in, satisfying exhaust note and admirable fuel economy."
On premium fuel, the Tau V8 produces a bit more horsepower than the powerplants found in the Lexus LS460, Mercedes-Benz S550, and Audi A8 and nearly the same power as these competitors on regular fuel.
* Advanced lane departure warning system : a world first lane departure warning system that car able to distinguish between white and yellow lines. In addition, tugs on driver seatbelt after an audible warning.
* Lexicon Logic 7 Audio: Installed a high-end car audio brand for Rolls Royce Phantom.
* Safety technology : Equus' total of nine airbags include advanced dual front airbags, front and rear seat-mounted side-impact airbags, roof-mounted side curtain airbags for both front and rear outboard seat occupants and a driver's knee airbag. Vehicle Stability Management system (VSM) that optimally manages ESC (Electronic Stability Control), the electronic parking brake, electronic active head restraints, smart cruise control and the seatbelt tensioning system for optimal safety.
* Laminated Glass : Dirt, dust, grease and liquid can be lightly wiped clean while wind noise is also blocked.
* High-tensile steel : The use of high-tensile steel in critical areas in the unibody provides Equus with higher dynamic torsional rigidity and a lower body structure weight despite having a spacious interior cabin.
* Materials : The leather upholstery, Alcantara headliner, natural wood trim and leather-wrapped French-stitched instrument panel.
* Room : Adjustable seats. Thermoelectric devices control for heating, cooling and humidity. Equus has more leg, head and shoulder room in the front and rear seats than the Lexus LS460. The Driver Information System (DIS) provides navigation, XM Satellite Radio, HD Radio technology, hands-free Bluetooth telephone system and more.
* Rear-wheel-drive architecture : 52/48 front-to-rear weight distribution for exceptional handling and refined steering characteristics.
* Electronic air suspension.
* Smart cruise control.
* LED lamps
* Special Service for Equus (US market only): Hyundai USA decided special service in US market. Hyundai dealers pick up Equus models from owners' homes, drop off a loaner, and return the Equus after service; buyers receive a virtual owner's manual on an Apple iPad-like device that they can also use to schedule service appointments and operate other applications. "Nobody wants to go to the dealership, not even a Lexus or BMW dealer," Hyundai USA said.
2011 Hyundai Equus
2011 Hyundai Equus
2011 Hyundai Equus
2011 Hyundai Equus
2011 Hyundai Equus
2011 Hyundai Equus
2011 Hyundai Equus
2011 Hyundai Equus
2011 Hyundai Equus
2011 Hyundai Equus
2011 Hyundai Equus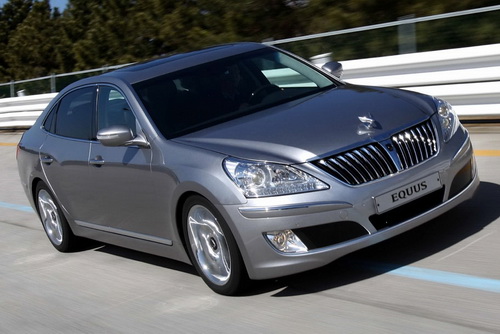 2011 Hyundai Equus
2011 Hyundai Equus
2011 Hyundai Equus
All Review videos and more of:• Infiniti• Mitsubishi• Aston Martin• Isuzu• Nissan• Audi• Jaguar • Pontiac• Bentley• Jeep• Porsche• BMW• Kia• Rolls Royce• Buick• Lamborghini• Saab• Cadillac• Land Rover• Saturn• Chevrolet• Lexus• Scion• Chrysler• Lincoln• Smart• Dodge• Lotus• Subaru• Ferrari• Maserati• Suzuki• Ford• Maybach• Tesla• GMC• Mazda• Toyota• Honda• Mercedes-Benz• Volkswagen• HUMMER• Mercury• Volvo• Hyundai• MINI.and MORE....