* Chassis: Space frame, carbon-fibre composite driver's safety cell, carbon fibre composite front and rear crash structures must be FIA/DMSB approval safety cage.
* Engine: Custom-built Audi V8 engine.
* Engine Type: 90 degrees, 32-valve, 2xDOHC, 9,000 rpm rev-limit, 4-valves per cylinder.
* Engine Displacement: 4.0 L (4,000 cc) (245 in³).
* Pistons: Mahle.
* Filter: Dow.
* Exhaust systems: Remus three-way catalytic converter.
* Power output: 460 hp (343 kW; 466 PS) at 7,500/min.
* Torque: over 500 N·m (370 ft·lbf).
* ECU: Bosch MS 2.9.
* Fuel: Aral Ultimate 100% octane (RON) super-unleaded.
* Fuel delivery: Fuel injection.
* Lubrication: Castrol and Shell Helix dry sump.
* Aspiration: Normally aspirated.
* Gearbox: Hewland sequential 6-speed sports gear (controlled DTM standard).
* Drivetrain: Rear-wheel drive.
* Clutch: Sandtler 3-plate carbon-fibre clutch.
* Differential: Adjustable multi-plate LSD.
* Radiator fluid: Würth.
* Steering: Servo assisted rack and pinion steering.
* Drive shafts: Constant-velocity plunging tripod joint shafts.
* Springs/Suspension: Eibach Independent front and rear suspension, double-wishbone suspension, push-rod system with spring/damper unit, adjustable gas-filled dampers.
* Brakes: Brembo and AP Racing hydraulic dual circuit brake system, light alloy brake calipers, front and rear ventilated carbon brake discs (DTM standard), driver adjustable infinitely variable brake-balance.
* Wheels: OZ Racing forged aluminium wheels.
o Front: 10 x 18".
o Rear: 11 x 18".
* Tyres: Dunlop SP Sport Maxx radial slick and treaded rain tyres.
o Front: 265/660-R18.
o Rear: 280/660-R18.
* Length: 4,800 mm (189 in).
* Height: 1,200 mm (47 in).
* Width: 1,850 mm (73 in).
* Wheelbase: 2,795 mm (110 in).
* Minimum weight: 1,050 kg (2,315 lb) (including the driver with overall and helmet).
* Fuel Capacity: 15.4 imp gal (70 L; 18 US gal).
* Safety equipment: Sabelt 6-point seatbelt, HANS Device.
* Ignition: Audi/Abt Sportsline CDI plug switchable on/off engine.
* Traction control: Yes.
* Team: Audi Sport Team Abt Sportsline, Phoenix Racing, Team Rosberg, Futurecom TME.
Audi A4
Audi A4
Audi A4
Audi A4
Audi A4
Audi A4
Audi A4
Audi A4
Audi A4
Audi A4
Audi
Audi A4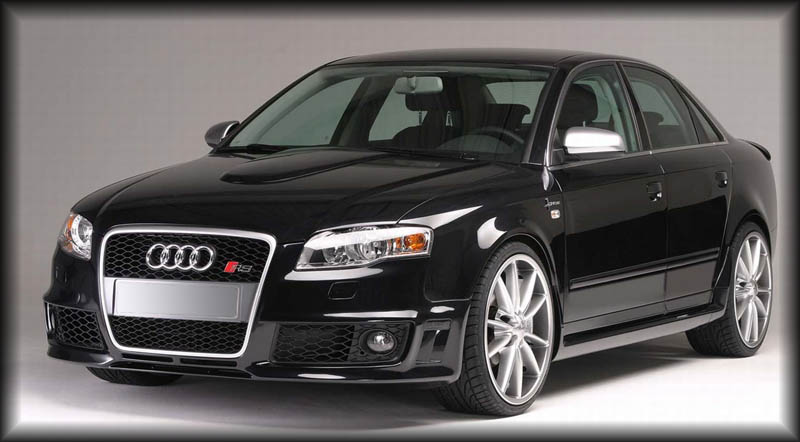 Audi A4
All Review videos and more of:• Infiniti• Mitsubishi• Aston Martin• Isuzu• Nissan• Audi• Jaguar • Pontiac• Bentley• Jeep• Porsche• BMW• Kia• Rolls Royce• Buick• Lamborghini• Saab• Cadillac• Land Rover• Saturn• Chevrolet• Lexus• Scion• Chrysler• Lincoln• Smart• Dodge• Lotus• Subaru• Ferrari• Maserati• Suzuki• Ford• Maybach• Tesla• GMC• Mazda• Toyota• Honda• Mercedes-Benz• Volkswagen• HUMMER• Mercury• Volvo• Hyundai• MINI.and MORE....